Discover more from Sheri's Intentional Inspirations Newsletter
This is the home of my weekly Intentional Inspirations Newsletter! I write for the homemaking and/or homeschooling mom who needs some encouragement to live intentionally!
Over 8,000 subscribers
Intentional Inspirations Newsletter - 8/1/20
Hello!
Wow! It's been another interesting week. Every day it seems like I wake up to something new that has happened, something new that drives me to my knees again to plead for our country. This newsletter will be a little long, again, which I apologize for. But with everything going on, I feel it is important to talk about these things and to get the truth out there.
If you have been on social media at all, you probably saw the drama that happened with this group of doctors who met at the state capitol to do a summit to bring their concerns on the extended lock downs, experiences on treating covid successfully, getting kids back to school and more. This group held a summit that ended up being about 6 hours long, but the video that went viral was a 45 minute press conference. This video went crazy on social media and within about 5 hours it was taken down by Youtube, Google, Facebook, and Twitter. Their website was taken down as well by their web host. I have never seen anything like it. Truth is being censored big time. But my husband had the wisdom to tell me that I needed to get those summit videos downloaded because he knew they would not be allowed to stay up on social media. Below I want to share a Facebook post that I wrote about this, as well as share the links to where you can download these videos.
_______
My Facebook post: 
I have seen so many people stating that this group of doctors just staged this press conference (the 45 minute video taken outside) for a photo op. Some even are saying that these people may not even be doctors, just a right-wing conservative group trying to make a political statement. (See below for bios of these doctors.)
This is NOT TRUE! These doctors came together, some meeting in person for the first time, to share in this summit. They brought a letter to present to President Trump signed by 600 doctors sharing their concerns over the health effects of the extended lockdowns. They also met with Vice President Pence while they were there.
This "summit" was supposed to last two days. On the first day they had two sessions (each session around 3 hours long) where doctors spoke in person and some streamed in, sharing their experiences with covid, their concerns over the lockdowns, concerns for our children and opening schools. They also did the 45 minute press conference to share out in the open with the media. Of course there were not any media there except the conservative Breitbart group.
The second day of the summit did not end up happening because of the censorship. Their live stream of the summit was blocked.
Below are links to the videos of the two sessions and the press conference. These are mp4 files loaded on my own personal Google Drive. You may have to download them and then view on your computer or device.
Also included below are links to download the PDF files of the source documents supporting the use of HCQ that were offered on these doctors' website before it was taken down.
One final note -- More doctors are coming out and speaking about their personal experiences with treating covid patients, their success with HCQ or the trouble they are having being able to subscribe HCQ for their patients. These doctors do not stand alone. They are the ones that were able to attend this summit, but they represent hundreds of others who are trying to make their voices heard.
You have to ask yourself why this drug, that has been on the market for around 65 years, is being used daily for years and years by lupus and rheumatoid arthritis patients, now all of a sudden is dangerous. Why are doctors who are sharing their personal experience and success using HCQ, along with zinc and zpack, being silenced?
As I have been saying over and over. This is not about the virus. It's not even about a vaccine. This is about something much bigger and more sinister. As a Christian, I know where my hope lies. It is not in a politician, not in a party, not in my own good works -- my hope comes from God alone. But God has called us to occupy this earth wisely until His return. Our country is at a pivotal point, and if we don't call people to repentance, to heart change, we are in trouble.
Many are being deceived. Many are believing what the main stream media is spewing. Much of the news is false or slanted. The truth that is being shared is being censored and deleted so only one narrative comes through.
Please spend time in prayer. Ask God to open your eyes to what is going on. Ask God to search your heart to see if there is any wicked way in you, then if there is, repent and get right with God. The days are evil. We are being called to stand for Truth. Some will most likely lose their livelihoods and maybe even their lives for standing for Truth. Are you ready? Do you have "ears to hear" and "eyes to see"?
Read Ephesians 6 -- Put on the Armor of God, and stand tall for God's Truth! We are in a spiritual battle!
AMERICA'S FRONTLINE DOCTOR'S SUMMIT - VIDEO & PDF LINKS

Session 1 - https://drive.google.com/file/d/1biLW-Lc7NXQMdePI1jcFLI9k1yVbYvBz/view?usp=sharing
Session 2 – https://drive.google.com/file/d/1nLEuYeXrsuOiIapPJdrBosuQgyPFD50s/view?usp=sharing
Press Conference – https://drive.google.com/file/d/1eA_Cag3FcbHxBbi2hVaDvmT4hdVwUqvn/view?usp=sharing
White Paper on Hydroxychloroquine – https://drive.google.com/file/d/1nUQLFCTWnle7eNaX4Z_bIu7V2Tg6Efox/view?usp=sharing
Compendium of HCQ Studies - https://drive.google.com/file/d/1l6y3L_KGb1ilMW0FaP4VZsd7WvX2IU3z/view?usp=sharing
_______

I know that was long, but I wanted to get the information to you. It's that important. There is a movement in our country that is trying to accomplish a socialist/communist takeover. This thinking has infiltrated every area of our country, from our US government, to our state government, to our local county commissions, to some evangelical church leaders. But no matter what you may think of President Trump, God is using this president to bring this corruption and evil out into the open. Pray for President Trump, for his and his family's safety, and that God would use him in a mighty way. This is a spiritual battle we are in right now. I loved this image that someone shared on social media this week...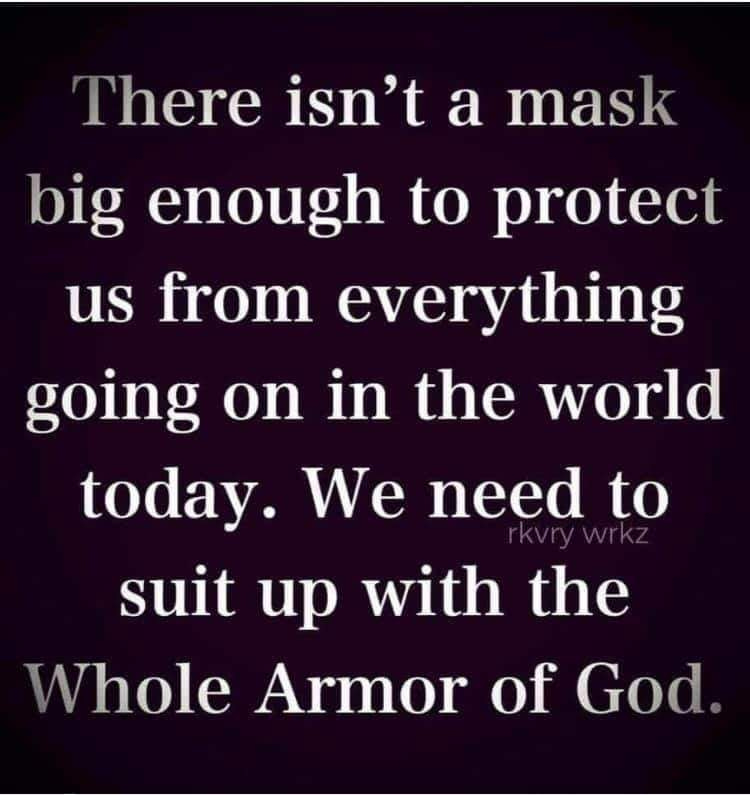 This is so true! We need to make sure as Christians, that we are putting on the whole armor of God every day, because it seems that each day is a battle lately! But we have hope! We know the One who is in charge and who wins this battle! We are just called to be faithful.
Well, I better get on to a few links for you this week. Enjoy!

Have a blessed weekend!
Take care. Don't fear. Trust God!
Blessings,
Sheri
P.S. Books I am reading: Mystery of the Silver Coins by Lois Walford Johnson (aloud to the kids), Plague of Corruption by Judy Mikovits, andIntentional Faith.
___________________________
JOIN ME ON "THE JUMP"!
The Jump is a pretty new social media platform without all the algorithms and ads!  I have created a few "Jumps" (or groups) to get started! Click the links below to join the ones you are interested in!
Reading With Sheri | Intentional Health With Sheri | Homeschooling With Sheri | Home Business With Sheri

ARE YOU CONCERNED ABOUT MEDICAL FREEDOM?
Our freedoms are being threatened all across this country and across the whole world. Vaccine mandate laws are being pushed through that take away the rights of parents to choose the health care of their children. If you want to research this issue, I encourage you to check out this resource page. I also want to offer you this Vaccine Hesitancy Review document (PDF file) that does a good job of summarizing the issues: Vaccine Hesitancy Review.pdf
CHECK OUT MY FREE EMAIL SERIES!
Head on over to my site, scroll down to the "Free Email Series" section to sign up for one of my free email series on the following topics: Trim Healthy Mama Tips & Encouragement; Quiet Time Series (1 Corinthians, 2 Corinthians, Galatians, Ephesians, Philippians, James); How to Get a Cleaning Schedule in Place; How to Set Up Your Homeschool Schedule; How to Plan a Month of Menus
EARN MONEY FROM HOME!
Want to earn a little extra income by recommending our products? Click here for details on our affiliate program!
Do you love the Earthley products? You can become an affiliate and earn a little money by sharing these amazing products with others!
---
Connect with me:
My Website | Podcast
Pinterest | Twitter | Instagram
Join me on The Jump:
Reading With Sheri | Intentional Health With Sheri
Homeschooling With Sheri | Home Business With Sheri

This email contains affiliate links. See our full Disclosure Policy and Privacy Policy.