Discover more from Sheri's Intentional Inspirations Newsletter
This is the home of my weekly Intentional Inspirations Newsletter! I write for the homemaking and/or homeschooling mom who needs some encouragement to live intentionally!
Over 8,000 subscribers
Intentional Inspirations Newsletter - 7/11/20
Hello,
I hope you had a wonderful 4th of July celebration. This year it seemed like we were a little more ready to celebrate. We went all out, as you can see!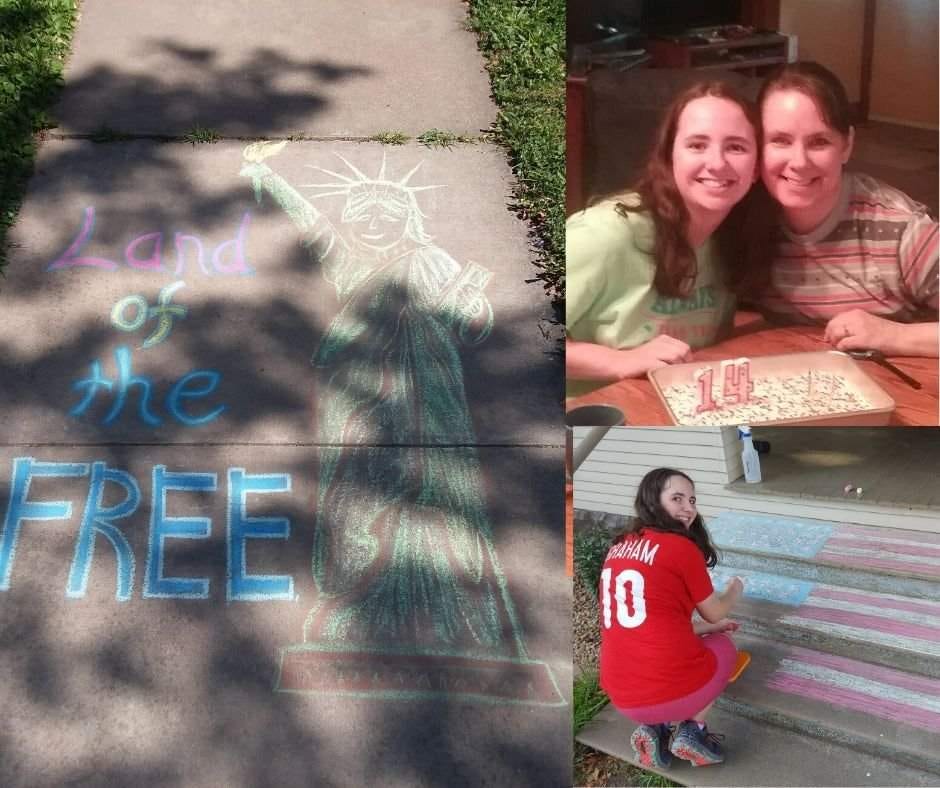 My daughters had fun decorating our front steps and sidewalk. Didn't they do an amazing job? They worked on it the day before the 4th, and prayed that it didn't rain that night (there was a chance). It did not rain and we enjoyed the beautiful drawings the next day. Since my youngest daughter and I have our birthdays so close together (6th and 9th), we also celebrated our birthdays together on the 4th with both my folks and my husband's folks. It was a full and fun day!
I have kept busy writing letters to our state legislators and county health departments and county commissioners, trying to advocate for our liberties, especially when it comes to medical issues. There is so much division and disagreement going on right now, and it is so important that we continue to extend grace and love to each other as we navigate these difficult days. You would have to be blind to not see that we are not being told the full truth from our leaders, and that there is an evil force that is out to kill and destroy not only people, but our nation.
This week I was talking to a friend and she was frustrated because she sees what is going on and feels like she should be doing something to help. I shared with her what the Lord has put heavy on my heart, and that is to pray for our pastors and spiritual leaders -- pray for discernment, Godly wisdom, and spiritual eyes to see what is truly going on in our world so they can lead their flock and prepare them for the days ahead. It seems that people today are so easily led astray. They believe everything they hear coming from mainstream media. 
If the church does not have Godly wisdom to know how to navigate these days, how will we be effective in sharing the hope we have in Jesus? Will we be paralyzed in fear, listening to all the headlines and talking points that have been repeated over and over? Or will we listen to God, seek His wisdom, and then walk in faith, trusting Him to guide us in the way we should go? If you are in that place of fear and need someone to listen or to pray for you, please don't hesitate to reply to this email and let me know. I would be honored to pray for you!

Well, I better get on to a few links for you this week. Enjoy!
Have a blessed weekend!
Take care. Don't fear. Trust God!
Blessings,
Sheri
P.S. Books I am reading: Mystery of the Silver Coins by Lois Walford Johnson (aloud to the kids), Plague of Corruption by Judy Mikovits, and Intentional Faith.
___________________________
JOIN ME ON "THE JUMP"!
The Jump is a pretty new social media platform without all the algorithms and ads!  I have created a few "Jumps" (or groups) to get started! Click the links below to join the ones you are interested in!
Reading With Sheri | Intentional Health With Sheri | Homeschooling With Sheri | Home Business With Sheri

ARE YOU CONCERNED ABOUT MEDICAL FREEDOM?
Our freedoms are being threatened all across this country and across the whole world. Vaccine mandate laws are being pushed through that take away the rights of parents to choose the health care of their children. If you want to research this issue, I encourage you to check out this resource page. I also want to offer you this Vaccine Hesitancy Review document (PDF file) that does a good job of summarizing the issues: Vaccine Hesitancy Review.pdf
CHECK OUT MY FREE EMAIL SERIES!
Head on over to my site, scroll down to the "Free Email Series" section to sign up for one of my free email series on the following topics: Trim Healthy Mama Tips & Encouragement; Quiet Time Series (1 Corinthians, 2 Corinthians, Galatians, Ephesians, Philippians, James); How to Get a Cleaning Schedule in Place; How to Set Up Your Homeschool Schedule; How to Plan a Month of Menus
EARN MONEY FROM HOME!
Want to earn a little extra income by recommending our products? Click here for details on our affiliate program!
Do you love the Earthley products? You can become an affiliate and earn a little money by sharing these amazing products with others!
---
This post contains affiliate links. See our full Disclosure Policy and Privacy Policy.