Discover more from Sheri's Intentional Inspirations Newsletter
This is the home of my weekly Intentional Inspirations Newsletter! I write for the homemaking and/or homeschooling mom who needs some encouragement to live intentionally!
Over 8,000 subscribers
Intentional Inspirations Newsletter - 7/18/20
Hello,
The phrase that keeps coming to my mind over these past few months is -- "For such a time as this." 
We were all going about our lives, like nothing was wrong, and then BAM! COVID! The thing is, though, that something WAS wrong and we just didn't realize it.
So many things are wrong -- the complacency of the church, the false teaching of the church, the deterioration of the God-ordained family unit, the deterioration and distortion of our genders, the indoctrination in our education system, the killing of millions of babies through abortion, the hundreds of thousands of children caught up in sex trafficking, and the list goes on and on. 
You see, I truly believe that God is using this crisis in our country to get our attention. Are we paying attention?
What is God teaching you through this time? What is God asking you to do? What passion is God putting on your heart? Are you being obedient?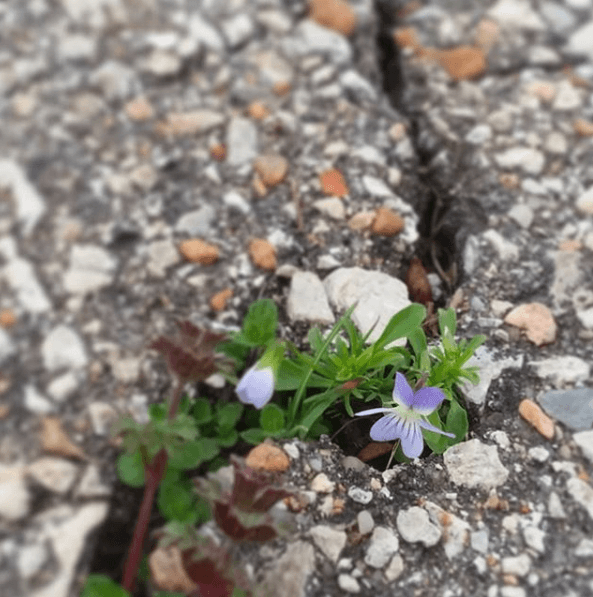 My oldest daughter took this picture one day when she was going for a walk. This beautiful flower blooming among the rocky path. Our country is on a rocky path right now. I want to be like this flower -- reaching up to the sun (Jesus), spreading beauty (the hope people can have in Jesus), and refusing to wilt even though the terrain is rough.
God has a plan for each of us to do, at this point in history. The question is - Are you doing it? Am I doing it? 
For me, God has called me to be an encourager to start with. It is an honor to sit down each week and write out this newsletter to you. I don't claim to know everything, or be right about everything, but I pray that God can use me to speak some truth and hope into your day.
I also feel God has called me to speak out and warn the church about what is coming. Many do not see the dangerous path we are headed. Many have been pulled into deception and don't even know it. So I continue to speak out, try to find truth to share about our current crisis, to stand against tyranny and corruption. We are living in a time where good is being called evil and evil is being called good. Everyone is doing what is right in his own eyes, like the Bible talks about. God has so impressed on my heart that I need to speak out on these issues and continue to stand for truth and liberty. We are a great nation, founded on Godly principles, but if we do not humbly repent, seek God, and turn from our wicked ways, we are in trouble.
Can I challenge you today? What is God calling you to do? Disciple and prepare your children for the days ahead? Get in the Bible more? Pray more? Get involved in politics? Take a stand for God's truth on social media? The most important thing you can do right now, before anything else, is to make sure you are right with God. If you do not know Jesus as your personal Savior, please reach out to me. I'd be happy to chat with you!
Well, I better get on to a few links for you this week. Enjoy!

One message of encouragement I want to leave with you today. God has you here, at this time in history, for a reason. Yes God is sovereign, He is in control, but He has called us to be obedient and stand up for truth and righteousness until Jesus comes back. We should not be cowering in fear and inactivity and praying for Jesus to come back. When Jesus does come back, if He comes in my lifetime, I want to be found going about doing His will when that happens.
Have a blessed weekend!
Take care. Don't fear. Trust God!
Blessings,
Sheri
P.S. Books I am reading: Mystery of the Silver Coins by Lois Walford Johnson (aloud to the kids), Plague of Corruption by Judy Mikovits, and Intentional Faith.
___________________________
JOIN ME ON "THE JUMP"!
The Jump is a pretty new social media platform without all the algorithms and ads!  I have created a few "Jumps" (or groups) to get started! Click the links below to join the ones you are interested in!
Reading With Sheri | Intentional Health With Sheri | Homeschooling With Sheri | Home Business With Sheri
ARE YOU CONCERNED ABOUT MEDICAL FREEDOM?
Our freedoms are being threatened all across this country and across the whole world. Vaccine mandate laws are being pushed through that take away the rights of parents to choose the health care of their children. If you want to research this issue, I encourage you to check out this resource page. I also want to offer you this Vaccine Hesitancy Review document (PDF file) that does a good job of summarizing the issues: Vaccine Hesitancy Review.pdf
CHECK OUT MY FREE EMAIL SERIES!
Head on over to my site, scroll down to the "Free Email Series" section to sign up for one of my free email series on the following topics: Trim Healthy Mama Tips & Encouragement; Quiet Time Series (1 Corinthians, 2 Corinthians, Galatians, Ephesians, Philippians, James); How to Get a Cleaning Schedule in Place; How to Set Up Your Homeschool Schedule; How to Plan a Month of Menus
EARN MONEY FROM HOME!
Want to earn a little extra income by recommending our products? Click here for details on our affiliate program!
Do you love the Earthley products? You can become an affiliate and earn a little money by sharing these amazing products with others!
---
This post contains affiliate links. See our full Disclosure Policy and Privacy Policy.