Discover more from Sheri's Intentional Inspirations Newsletter
This is the home of my weekly Intentional Inspirations Newsletter! I write for the homemaking and/or homeschooling mom who needs some encouragement to live intentionally!
Over 8,000 subscribers
Intentional Inspirations Newsletter - 10/10/20
Hello,
This week my daughter decorated our home for fall. She does such a good job! This is on top of the bookshelf in the dining room. Love it!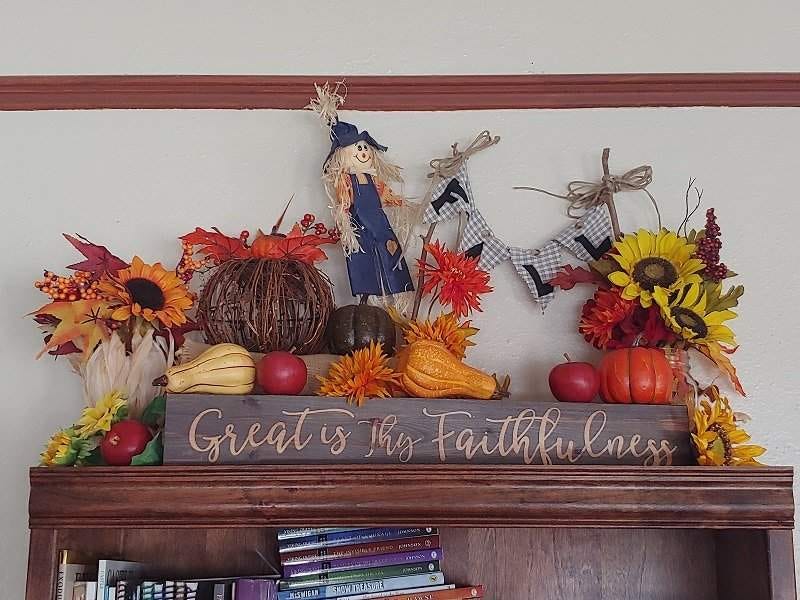 As I look to fall and the coming holidays, I can't help but get excited and anxious all at the same time. We are headed into an election that could be one of the most important elections of our country in possibly its history. It is hard to know what will happen after election day. No matter who wins, I do believe we will have some unrest to deal with. 
Because of all the unknowns, it makes it a little harder to prepare my heart for the holidays. Thanksgiving is a time to give thanks and we have so much to be thankful for! Christmas is a time to celebrate God's gift to us - sending Jesus to come to earth as a baby, to live and then ultimately die for our sins. My prayer for the remainder of this year is that people all over the world would be aware of their desperate need for a Savior. Our world is so lost, our nation is lost and needs to turn back to God. I pray that the days ahead will bring a revival in the hearts of people, a desire to turn from our wicked ways and turn back to God. 
This week I started reading a book to the kids that another mom recommended. It is called The Wave (free PDF here). It is about an experiment that a high school history teacher did with his class back in 1969. He was teaching his class about what happened in Germany with Hittler. When discussing with the class, they asked how the Germans could possible go along with what Hittler was doing. It was so evil. So this teacher set out to do an experiment on the class. The results were very disturbing to everyone involved, so much so that no one spoke of it for years. I have read about half of the book with the kids so far and it has sparked a lot of discussion about parallels to what is going on in our country right now. We need to be having these discussions with our kids. They need to understand how to think critically, how to be discerning, and how to stand on Truth no matter what.
If you haven't joined me over on Substack, you should! It has been a lot of fun for me to have a more informal place to write. Besides the Revelation study going on over there, I usually do one other post during the week on whatever topic the Lord lays on my heart to write about.
One more quick note -- As I shared last week, I have been preparing for the possibility that Facebook will terminate my account. They are starting to aggressively crack down on any accounts that post about natural health or anything that goes against the narrative. So, I have no idea how long I will be there. I have some groups created over on Jump (see links below in the footer) if you want to join me there!
Here are a few links for you to check out this week:
Praying for each of you, that you are finding your rest, your hope, your strength, in Jesus alone!
Take care. Don't fear. Trust God!
Blessings,
Sheri
P.S. Books I am reading: The Wave (free PDF here)(aloud to the kids), Marxianity, and Socialism: The Real History from Plato to the Present.
Join Sheri's Inspirational Extras [Newsletter Archive + Bonus Content]
JOIN ME ON "THE JUMP"!
The Jump is a pretty new social media platform without all the algorithms and ads!  I have created a few "Jumps" (or groups) to get started! Click the links below to join the ones you are interested in!
Reading With Sheri | Intentional Health With Sheri | Homeschooling With Sheri | Home Business With Sheri | Health Freedom & Vaccine Info With Sheri
ARE YOU CONCERNED ABOUT MEDICAL FREEDOM?
Our freedoms are being threatened all across this country and across the whole world. Vaccine mandate laws are being pushed through that take away the rights of parents to choose the health care of their children. If you want to research this issue, I encourage you to check out this resource page. I also want to offer you this Vaccine Hesitancy Review document (PDF file) that does a good job of summarizing the issues: Vaccine Hesitancy Review.pdf
CHECK OUT MY FREE EMAIL SERIES!
Head on over to my site, scroll down to the "Free Email Series" section to sign up for one of my free email series on the following topics: Trim Healthy Mama Tips & Encouragement; Quiet Time Series (1 Corinthians, 2 Corinthians, Galatians, Ephesians, Philippians, James); How to Get a Cleaning Schedule in Place; How to Set Up Your Homeschool Schedule; How to Plan a Month of Menus
EARN MONEY FROM HOME!
Want to earn a little extra income by recommending our products? Click here for details on our affiliate program!
Do you love the Earthley products? You can become an affiliate and earn a little money by sharing these amazing products with others.
---
This post contains affiliate links. See our full Disclosure Policy and Privacy Policy.