Discover more from Sheri's Intentional Inspirations Newsletter
This is the home of my weekly Intentional Inspirations Newsletter! I write for the homemaking and/or homeschooling mom who needs some encouragement to live intentionally!
Over 8,000 subscribers
Intentional Inspirations Newsletter - 8/22/20
Hello!
How are you doing? Are you holding up ok? This week I found myself needing some extra encouragement. Below I share a Psalm the Lord used to speak to me and boost my spirits! I hope it will encourage you too.
We will probably be starting our homeschool back up next week. My youngest son has his 13th birthday on Monday, and we usually take birthdays off. So we will start on Tuesday, Lord willing. I have a few things to get ready this weekend still, and need to get our schedule worked out. But I mostly know what we are doing and now need to get myself motivated again!
With everything going on in our country, I want my children to have a solid foundation in the Bible and in our country's heritage. We will be watching the American Heritage DVD Series with David Barton to learn about the forgotten history and heroes of our nation. We will continue to read through the Child's Story Bible together as I continue to lay that foundation of scripture in my kids' lives. I love that story Bible. It doesn't dumb down the stories and presents them accurately. We have read through that story Bible so many times through the years!
I think my plan is to start our year gently, watching this American Heritage DVD series together along with our core subjects, then add in some more as we get going again. We will of course continue our afternoon read-aloud time. I bought some more books in a couple of different series that I have been reading to the kids, so we will continue reading through those in the afternoons.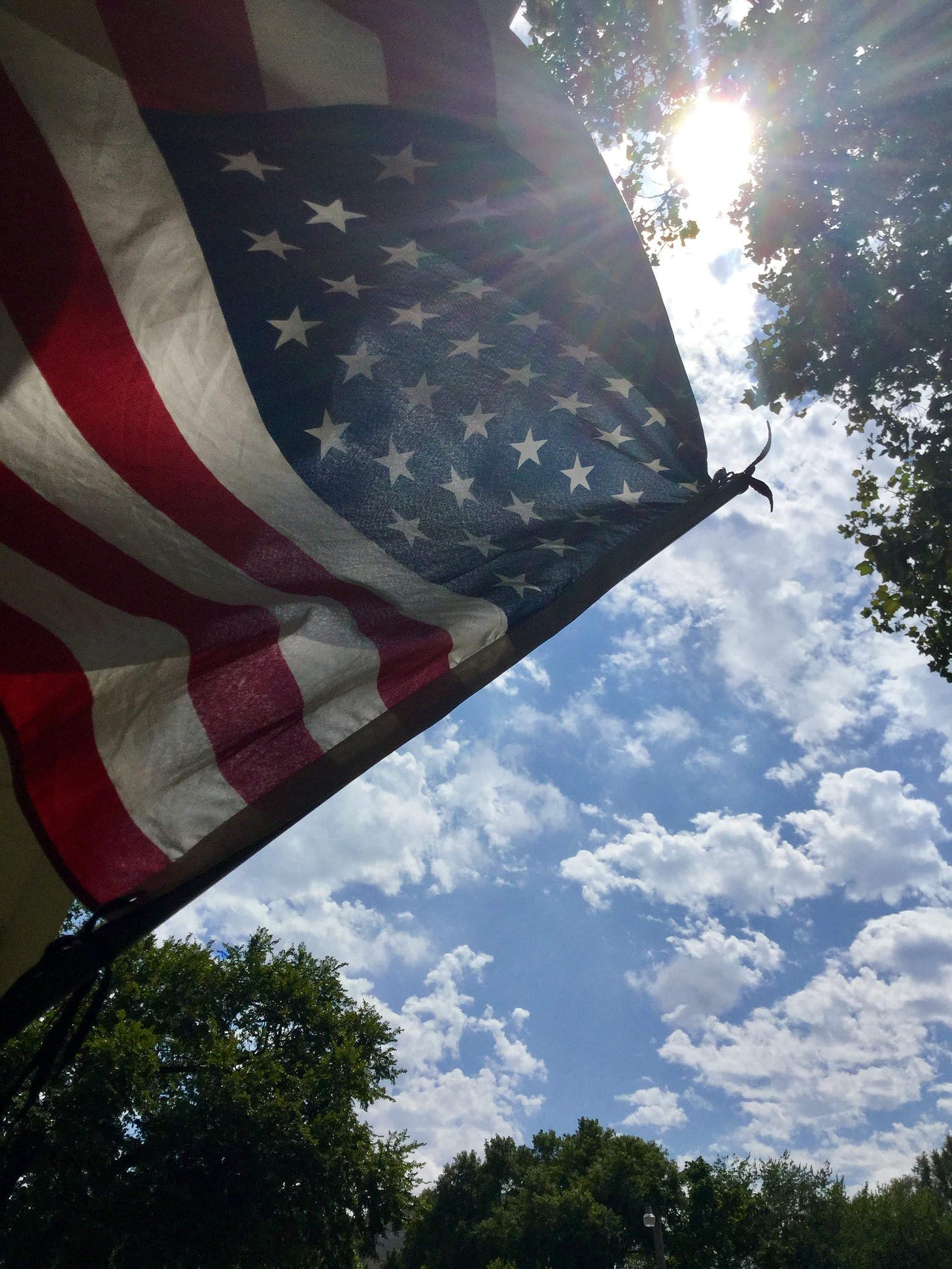 One morning this week, I was needing some encouragement, so I turned to the Psalms. God brought me to Psalm 43 and boy did it speak to me! I wanted to share the Psalm with you and then my thoughts on what the Lord has shown me. 

Psalm 43
Send Out Your Light and Your Truth
Vindicate me, O God, and defend my cause
against an ungodly people,
from the deceitful and unjust man
deliver me!
2 For you are the God in whom I take refuge;
why have you rejected me?
Why do I go about mourning
because of the oppression of the enemy?
3 Send out your light and your truth;
let them lead me;
let them bring me to your holy hill
and to your dwelling!
4 Then I will go to the altar of God,
to God my exceeding joy,
and I will praise you with the lyre,
O God, my God.
5 Why are you cast down, O my soul,
and why are you in turmoil within me?
Hope in God; for I shall again praise him,
my salvation and my God.
When I read through this Psalm it was like the Lord not only encouraged me, but challenged me as well.
(vs. 1) - In our world right now we are in a spiritual battle. Our country is at a pivotal point in history, where we will be going down one of two paths. This verse talks about ungodly people, and about deceitful and unjust men. Wow, this is our world today.
(vs. 2) - Many times during the past 5-6 months, I have felt so heavily the oppression of the enemy and felt like God wasn't there. I know in my mind that is not true, but boy has that feeling of oppression and isolation been real! Over and over again the Lord keeps reminding me that He is my hope, He is my refuge.
(vss. 3-4) - This verse really jumped off the page at me. It talks about God sending out His light and His truth to lead me, to bring me to the altar of God, who is my exceeding joy, so that I can praise Him. Wow! I SO want to stay in that place of being in His presence, praising Him, but the only way I can get there is if I am allowing His light and His truth to lead me and guide me. His light to me is the light in the dark that illumines and overcomes the darkness. Jesus is often referred to as the "light" too. It is the light that allows me to understand the times we are living in, gives me discernment to know what to do, where to go. His light lights my path in life. His truth is found in the Bible. In a world where the phrase "your truth" is commonly used, and relativism is the norm, my life has to be guided by the only Truth that will lead me to God, to His altar, to His exceedingly great joy and peace - the written word of God.
(vs. 5) - Yes at times my soul does feel downcast and in turmoil. It's hard not to get discouraged when you see the evil and corruption going on around us. But as I allow God's light and Truth to lead me and put my hope in God alone, I shall again praise Him, my salvation and my God!
This was such an encouragement to me this week. I pray that as we continue to be in the battle for our God-given freedoms, continue to battle good vs. evil, that we will be challenged to not lose heart. Get your marching orders from God, allowing His light and His Truth to guide you. Put your hope in God alone, and allow God to continually lead you back to His altar, to His exceedingly great joy, where you can praise Him, your God and your salvation!
Well, I better get on to a few links for you this week. Enjoy!

Praying for each of you, that you are finding your rest, your hope, your strength, in Jesus alone!
Take care. Don't fear. Trust God!
Blessings,
Sheri
P.S. Books I am reading: The Invisible Friend by Lois Walford Johnson (aloud to the kids), Plague of Corruption by Judy Mikovits, Intentional Faith, and Marxianity.
___________________________
JOIN ME ON "THE JUMP"!
The Jump is a pretty new social media platform without all the algorithms and ads!  I have created a few "Jumps" (or groups) to get started! Click the links below to join the ones you are interested in!
Reading With Sheri | Intentional Health With Sheri | Homeschooling With Sheri | Home Business With Sheri
ARE YOU CONCERNED ABOUT MEDICAL FREEDOM?
Our freedoms are being threatened all across this country and across the whole world. Vaccine mandate laws are being pushed through that take away the rights of parents to choose the health care of their children. If you want to research this issue, I encourage you to check out this resource page. I also want to offer you this Vaccine Hesitancy Review document (PDF file) that does a good job of summarizing the issues: Vaccine Hesitancy Review.pdf
CHECK OUT MY FREE EMAIL SERIES!
Head on over to my site, scroll down to the "Free Email Series" section to sign up for one of my free email series on the following topics: Trim Healthy Mama Tips & Encouragement; Quiet Time Series (1 Corinthians, 2 Corinthians, Galatians, Ephesians, Philippians, James); How to Get a Cleaning Schedule in Place; How to Set Up Your Homeschool Schedule; How to Plan a Month of Menus
EARN MONEY FROM HOME!
Want to earn a little extra income by recommending our products? Click here for details on our affiliate program!
Do you love the Earthley products? You can become an affiliate and earn a little money by sharing these amazing products with others!
---
Connect with me:
My Website | Podcast
Pinterest | Twitter | Instagram
Join me on The Jump:
Reading With Sheri | Intentional Health With Sheri
Homeschooling With Sheri | Home Business With Sheri

This email contains affiliate links. See our full Disclosure Policy and Privacy Policy.