Discover more from Sheri's Intentional Inspirations Newsletter
This is the home of my weekly Intentional Inspirations Newsletter! I write for the homemaking and/or homeschooling mom who needs some encouragement to live intentionally!
Over 8,000 subscribers
Intentional Inspirations Newsletter - 8/29/20
Hello!
This week was our first week back to homeschool! We started out gently this week as we all got used to getting back into a schedule. We are absolutely loving the US history DVDs that we are watching! I am learning so much about our Christian heritage that I was never taught in school. That is one of the things I love about homeschooling - I get to learn right along with the kids!
After we finish up watching that DVD series, we are going to start working through this amazing curriculum by Meredith Curtis - Government: God's Blueprint/Man's Agenda. It looks amazing and I can't wait to start it. I will do a full review on the blog later, after we have had a chance to work through some of the lessons. 
Before I move on to a very long post that I shared on social media this week, I wanted to take a moment to reach out to my readers who live in Kansas or surrounding states. There is a big health freedom event coming up in a few weeks here in Kansas, in the greater Wichita area, that I would love to tell you about! If you are interested in fighting for health freedom, just reply to this email and ask me about it. I will share more information with you then. Believe me -- you won't want to miss it!
Here are a few links for you to check out, then after these links you will find my long social media post.
Now, the following is a very long post that I shared on social media earlier this week. It was heavy on my heart and something that has really bothered me throughout this pandemic. I put it all together in a post with tons of links for you to explore. God would not let me keep silent on this and I wanted to share it with you here as well.

_________
I don't even know where to start, but I have not been able to get this off my mind since I first ran across this article last night on Facebook. After reading this "statement", mentioned in the articles linked below, that all these evangelicals are signing, and finding out about the website and the founder of the website where this statement is posted, the Lord is not allowing me to be silent on this. I have to speak out, as a warning to Christians to please be discerning in regards to everything we are reading and seeing today.
The Bible warns that many will be led astray and deceived in the last days. The deceiver will mask falsehoods with religious sounding talking points that "seem" like truth. You absolutely must go back and discern what worldview the information is coming from – a Biblical worldview or a secular worldview.
At the Event 201 pandemic simulation last fall (put on by John Hopkins, World Economic Forum, and the Bill & Melinda Gates Foundation), they were talking about how to persuade people to do what the health experts were saying (stay home, wear masks, get vaccinated, social distance, etc.). They said that they need to use leaders in the faith community to push this message because people trust them.
Here is the Event 201 website if you want to find out more about what this event was: https://www.centerforhealthsecurity.org/event201/
Here is the video clip talking about the faith-based community:
If you want to view all of the videos from this Event 201 Pandemic Simulation event, here is the playlist: https://www.youtube.com/playlist?list=PL9-oVXQX88esnrdhaiuRdXGG7XOVYB9Xm
Is this what is happening now? Are they using the faith-based community to push their flock into compliance?
From what I have seen, it seems like the issue of masks especially has been spiritualized, with the message that as Christians we should wear the mask to "show our love for others" and "be a good Christian". That message is implying that if you do not want to wear a mask, that you are being unloving and selfish and disobedient to your spiritual authorities.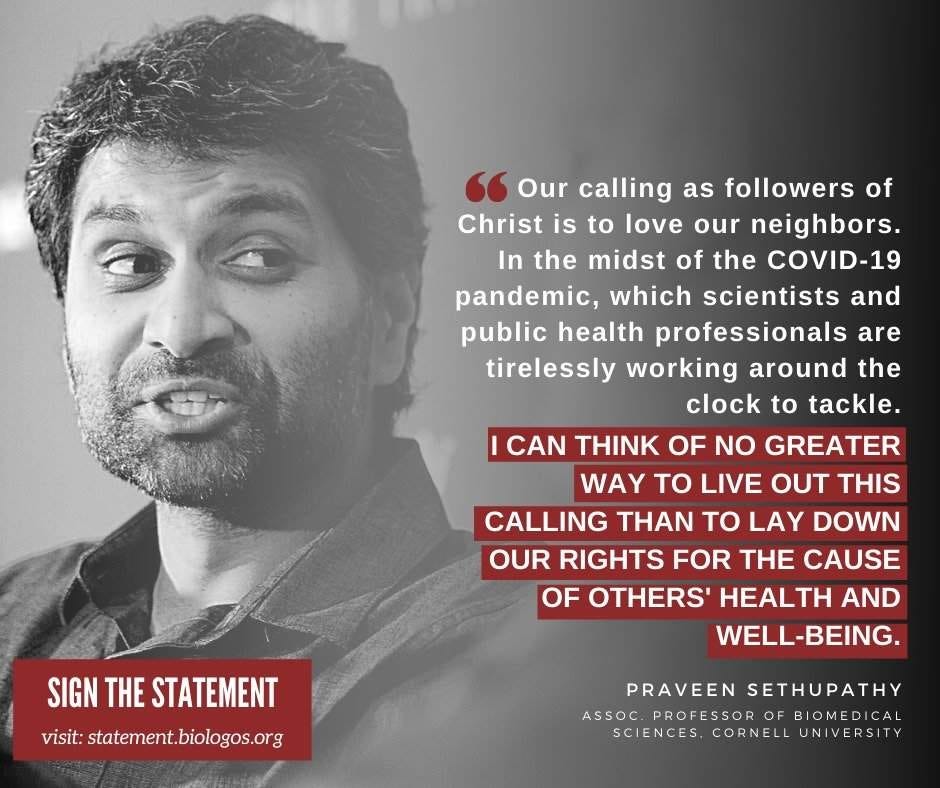 Spiritual leaders are getting their information from local health authorities and using that information to create policies for their ministries. What if the information being given out by the local health authorities is inaccurate? Do we blindly trust our health authorities or do we go to the Lord, asking Him for wisdom, do our own research, look at the facts ourselves, and make a decision? Or are we supposed to just obey what our spiritual authorities tell us to do.

What happens when masks are no longer the focus and it turns to a vaccine. What then? Are spiritual authorities going to be pushing their flock to get the covid vaccine? Well, this "statement" being signed by huge groups of evangelicals seems to be doing just that.
Here are a few links to articles talking about this "statement":
2,700 evangelicals warn against politicizing coronavirus, urge Christians to take vaccine
https://www.christianpost.com/news/2700-evangelicals-warn-against-politicizing-coronavirus-urge-christians-to-take-vaccine.html
Christian Leaders Call On Fellow Believers To Take Science Seriously During The Pandemic
https://www.huffpost.com/entry/christian-statement-covid-19-biologos_n_5f3ebd0fc5b6763e5dc07d9f
2,700 Christian leaders sign statement backing scientific research amid coronavirus politicization
https://premierchristian.news/en/news/article/almost-3-000-christians-sign-statement-backing-vaccine-science-amid-coronavirus-politicisation
This "statement" that these articles are talking about is from BioLogos, which was founded by Francis Collins, director of the NIH (National Institutes of Health).
Here is that statement on the BioLogos website: https://statement.biologos.org/
Here is the information on Francis Collins: https://biologos.org/people/francis-collins/
This statement is stating that if you are a Christian you should do the following: wear a mask, get vaccinated, correct misinformation, work for justice, and pray.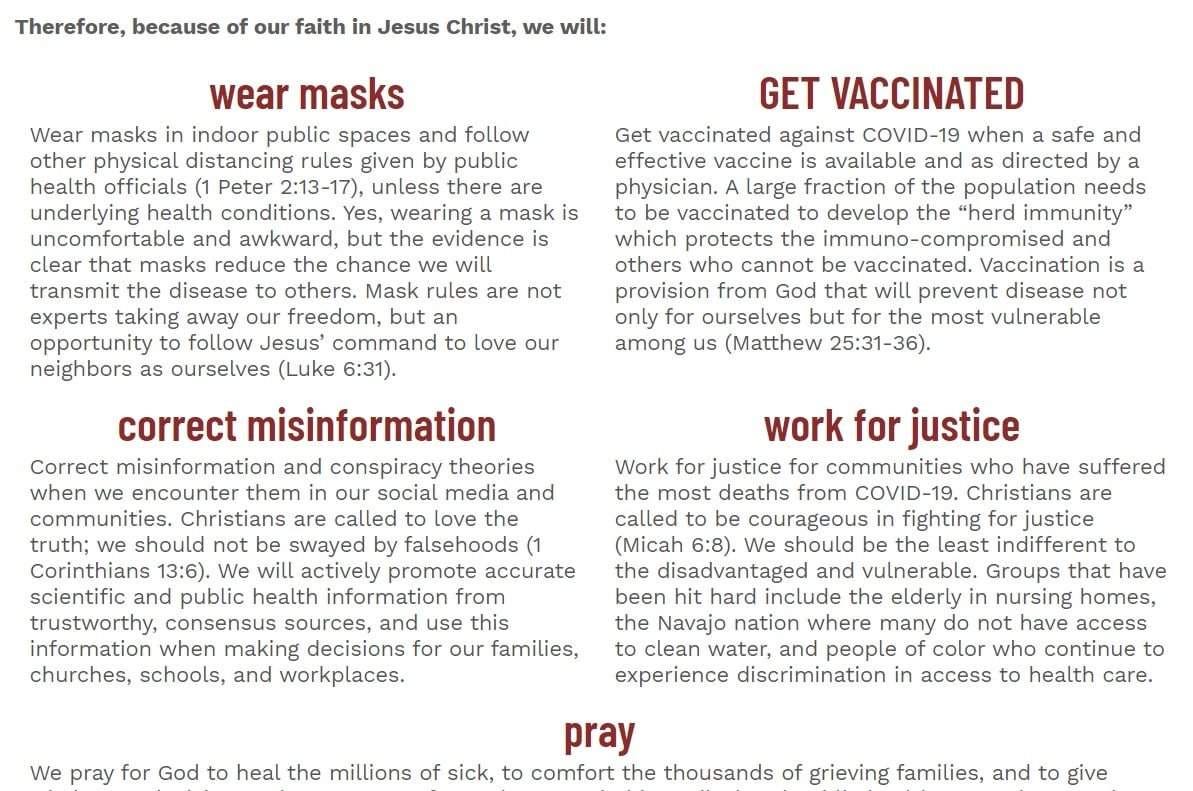 If you are a Christian I would hope that you would have a problem with the "get vaccinated" part especially. (I am specifically speaking about the covid vaccines that use aborted human fetal cell lines.)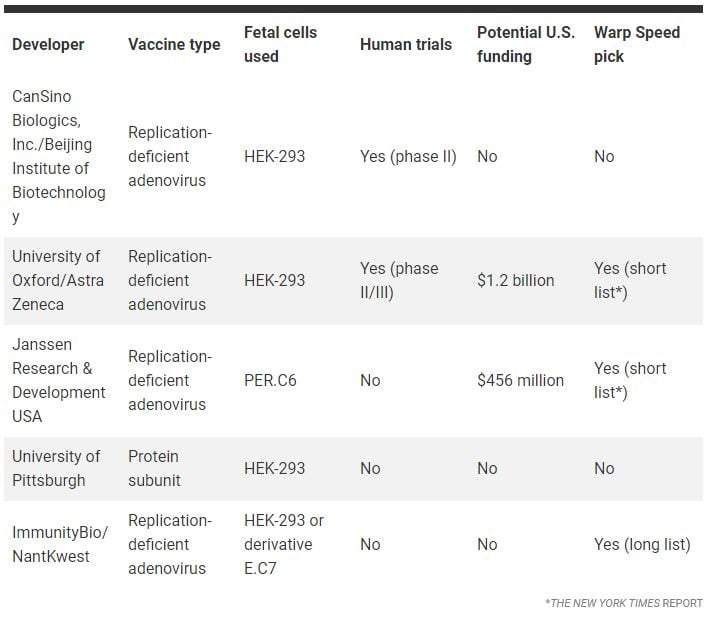 "At least five of the candidate COVID-19 vaccines use one of two human fetal cell lines: HEK-293, a kidney cell line widely used in research and industry that comes from a fetus aborted in about 1972; and PER.C6, a proprietary cell line owned by Janssen, a subsidiary of Johnson & Johnson, developed from retinal cells from an 18-week-old fetus aborted in 1985. Both cell lines were developed in the lab of molecular biologist Alex van der Eb at Leiden University. Two of the five vaccines have entered human trials (see table attached)."

Read the full article here: https://www.sciencemag.org/news/2020/06/abortion-opponents-protest-covid-19-vaccines-use-fetal-cells
Here is another article talking about aborted fetal cells being used in the making of COVID vaccines: https://cogforlife.org/2020/03/31/another-pharmaceutical-company-johnson-johnson-using-aborted-fetal-cells-to-develop-covid-19-vaccine/
If you want to dig more:


https://bottradionetwork.com/ministry/wallbuilders-live/2020-01-15-the-profamily-legislators-conference-dr-theresa-deisher-and-mat-staver-part-1/
https://bottradionetwork.com/ministry/wallbuilders-live/2020-01-16-the-profamily-legislators-conference-dr-theresa-deisher-and-mat-staver-part-2/
https://bottradionetwork.com/ministry/wallbuilders-live/2020-01-17-the-profamily-legislators-conference-dr-theresa-deisher-and-mat-staver-part-3/
https://bioethicsarchive.georgetown.edu/pcbe/transcripts/sept08/deisher_statement.pdf
Another side note - do you see any ethical issues involved here when the founder of BioLogos, Francis Collins, who is pushing this "statement" to be signed by all Christians, is the director of the National Institutes of Health, which is currently working on COVID vaccines?
This is what happens when science is lifted up as god, when the Bible is being interpreted through the lens of science. If you go to the BioLogos website, you will see that they are teaching from the worldview that you interpret the Bible through the lens of science, instead of interpreting science through the lens of the Bible.
Here is the link to the BioLogos website: https://biologos.org/
What I see as I looked over this website, is that they are teaching what is called "scientocracy" or "scientism" where science is god and all policies are based on science. Science is being used to explain the Bible.
Here is a quote from the BioLogos website: "At BioLogos, we present the Evolutionary Creationism (EC) viewpoint on origins. Like all Christians, we fully affirm that God is the creator of all life—including human beings in his image. We fully affirm that the Bible is the inspired and authoritative word of God. We also accept the science of evolution as the best description for how God brought about the diversity of life on earth."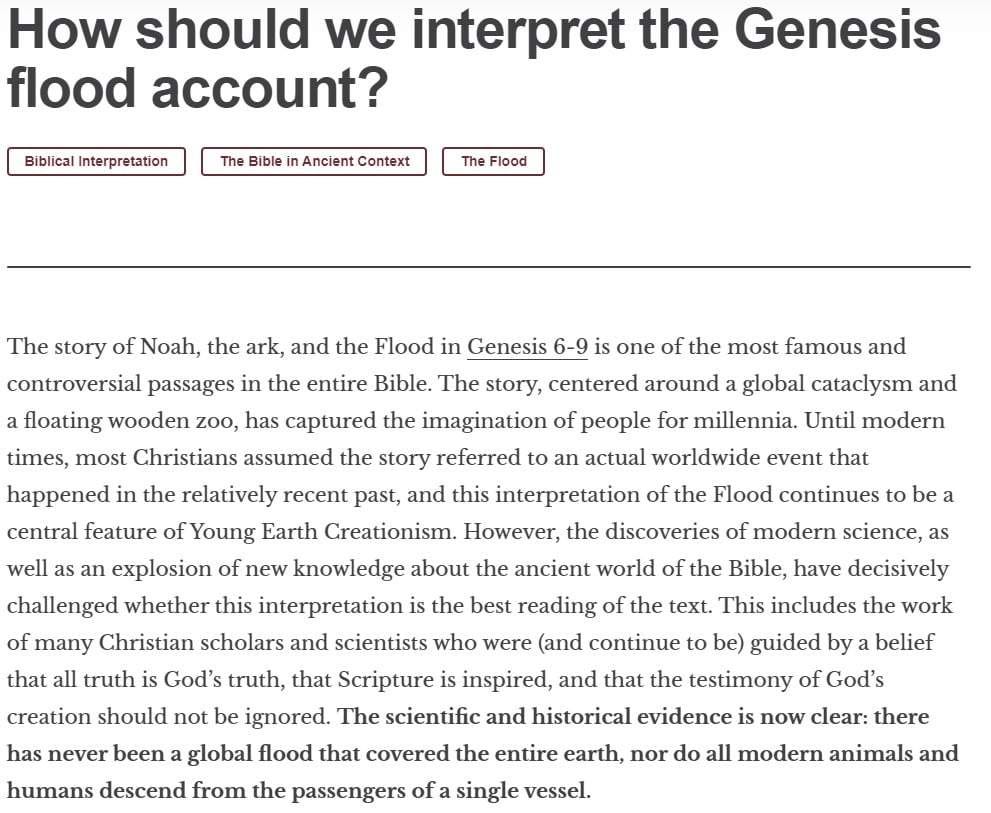 This article and videos do a good job of further describing this kind of worldview:

"In Fauci We Trust"? C. S. Lewis Foresaw Scientific Authoritarianism
https://evolutionnews.org/2020/08/in-fauci-we-trust-c-s-lewis-foresaw-scientific-authoritarianism/
Science and Scientism in the Age of COVID-19: Wisdom from C.S. Lewis

That Hideous Strength: C.S. Lewis's Prophetic Warning against the Abuse of Science

We are seeing this very thing today. Local health officers are stepping in and issuing orders for lockdowns, mask mandates, gathering sizes, what businesses can be open, etc. These are unelected officials that are making public policy. Science is being lifted up as god and when science is compromised, people are being led astray.
"I dread government in the name of science. That is how tyrannies come in." C.S. Lewis
BioLogos has also been targeting homeschoolers:
Back in 2011 Ken Ham was kicked out of two homeschool conventions because he was questioning the materials being presented by those from BioLogos. https://answersingenesis.org/ministry-news/core-ministry/kicked-out-of-two-homeschool-conferences/
BioLogos is releasing a homeschool curriculum this fall (2020). https://biologos.org/biologos-integrate
CLOSING THOUGHTS:
I know I have rambled a bit and my thoughts have been a bit scattered, but I wanted to make others aware of what is possibly going on in regards to science in general today. In all my research over the past couple years, I know the amount of corruption and fraud that is at high levels in our health agencies (NIH, CDC , FDA). There is so much conflict of interest and so much money involved that you really have to question the integrity of the science we are being given.
At the very least, you have to use critical thinking skills and question things. You can't assume that what the "health experts" are telling you is accurate. [I am not saying that all scientists or health experts are bad or that faith leaders are intentionally misleading their flock.]
As Christians, we believe God is the ultimate authority. He is the Creator of everything.
When science is exalted as absolute truth and used to interpret the Bible, we are going down a slippery slope.
When obedience to science becomes synonymous with obedience to God, we are in real trouble.
This statement: A Christian Statement on Science for Pandemic Times (https://statement.biologos.org/) is very concerning to me and I hope it raises some red flags for you too. Unfortunately it looks like many evangelical leaders are falling in line with this.
Be discerning, do your own research, and make sure that you are viewing everything that you are facing during these times, through the lens of the Bible and nothing else.
_________

Praying for each of you, that you are finding your rest, your hope, your strength, in Jesus alone!

Take care. Don't fear. Trust God!
Blessings,
Sheri
P.S. Books I am reading: The Invisible Friend by Lois Walford Johnson (aloud to the kids), Plague of Corruption by Judy Mikovits, Intentional Faith, and Marxianity.
___________________________
JOIN ME ON "THE JUMP"!
The Jump is a pretty new social media platform without all the algorithms and ads!  I have created a few "Jumps" (or groups) to get started! Click the links below to join the ones you are interested in!
Reading With Sheri | Intentional Health With Sheri | Homeschooling With Sheri | Home Business With Sheri
ARE YOU CONCERNED ABOUT MEDICAL FREEDOM?
Our freedoms are being threatened all across this country and across the whole world. Vaccine mandate laws are being pushed through that take away the rights of parents to choose the health care of their children. If you want to research this issue, I encourage you to check out this resource page. I also want to offer you this Vaccine Hesitancy Review document (PDF file) that does a good job of summarizing the issues: Vaccine Hesitancy Review.pdf
CHECK OUT MY FREE EMAIL SERIES!
Head on over to my site, scroll down to the "Free Email Series" section to sign up for one of my free email series on the following topics: Trim Healthy Mama Tips & Encouragement; Quiet Time Series (1 Corinthians, 2 Corinthians, Galatians, Ephesians, Philippians, James); How to Get a Cleaning Schedule in Place; How to Set Up Your Homeschool Schedule; How to Plan a Month of Menus
EARN MONEY FROM HOME!
Want to earn a little extra income by recommending our products? Click here for details on our affiliate program!
---
This email contains affiliate links. See our full Disclosure Policy and Privacy Policy.