Discover more from Sheri's Intentional Inspirations Newsletter
This is the home of my weekly Intentional Inspirations Newsletter! I write for the homemaking and/or homeschooling mom who needs some encouragement to live intentionally!
Over 8,000 subscribers
Gluten-Free Banana Bread Muffins
A yummy gluten-free breakfast or snack!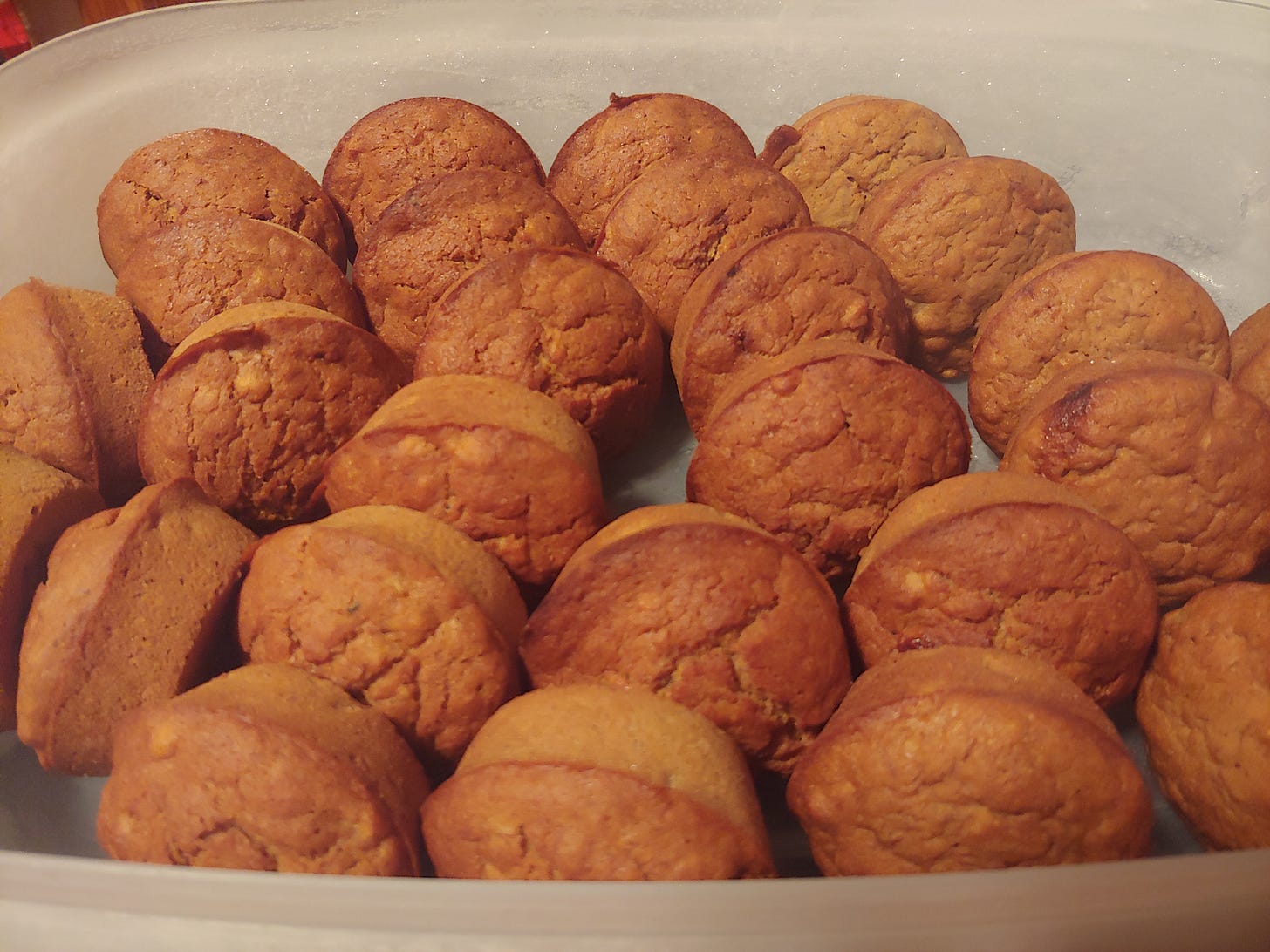 Since my middle son was diagnosed with Crohn's and we have adjusted his diet and began healing his gut, it has been a challenge for me to figure out how to cook for my family. Going gluten-free can be hard!
Well, I recently had some bananas that needed to be used up, and I had a banana bread recipe that we really liked, so I decided to try to convert it to gluten-free. I have tried to make gluten-free banana bread before in a loaf pan and it never seemed to cook right and the middle was always mushy. Yuck!
So I decided to just use the recipe we love but sub out gluten-free flour for the whole wheat flour I usually used. Then I decided to bake it in muffin pans instead of the loaf pans. Wow! They turned out great! They taste like banana bread and you can't even tell they are gluten-free. I wanted to share the recipe with you!
---
GLUTEN-FREE BANANA BREAD MUFFINS
Makes 3 dozen muffins.
4 cups gluten-free flour (I just use Walmart's Great Value brand or Bob's Red Mill GF Flour)

2 teaspoons baking soda

1 teaspoon baking powder

1 teaspoon salt (I use Pink Himalayan salt)

1 cup oil (I use olive oil)

2 cups sugar (I use coconut sugar, but you could sub any other kind of sugar alternative)

4 eggs, beaten

6-8 ripe bananas, mashed

1 teaspoon vanilla

1/2 cup milk (I use almond or cashew milk)

Feel free to add in any other extras that you wish (chocolate chips, nuts, etc.)
Preheat oven to 400 degrees F.
Stir together dry ingredients. Beat together remaining ingredients. Add wet ingredients to dry ingredients and blend until combined. (The gluten-free flour seems to want to lump together, so make sure you get all the flour lumps stirred in well.)
Spray muffin cups with olive oil spray and fill with batter. I use an ice cream scoop to fill my muffin cups and it works great. This recipe makes 3 dozen muffins, so you will need 3 pans that hold a dozen each. I like to use the silicone muffin pans, but you can use metal pans and spray with oil or use muffin liners.
Cook in 400 degree oven for 20 minutes. Remove and allow to cool in muffin pans.
These muffins freeze well! Put them in a container in the freezer for a quick breakfast or snack later.
---
I hope you are enjoying these "extra" posts during the week! Feel free to click the button below and leave a comment. I'd love to hear from you!